Posted by

Annie

on

Tuesday, 26 May 2015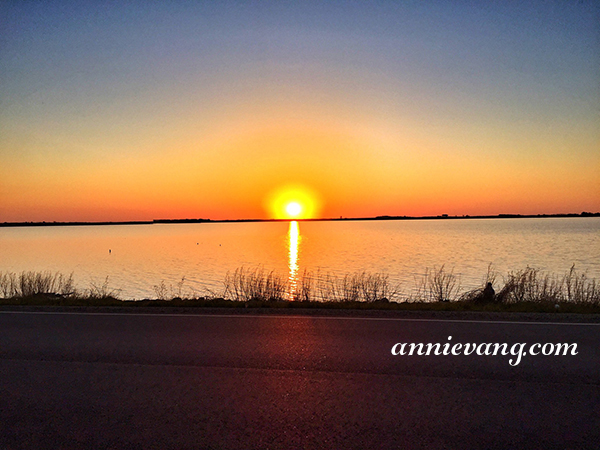 For years, we've been hearing about other people's adventures fishing in North Dakota.  Two years ago my cousin Yer and brother in law Seng gave us some frozen white bass that they caught in North Dakota.  They were so good and it's been on my mind ever since.
I've been craving white bass so I asked my husband if we could take a fishing trip to experience it.  My cousin Yer has been there before and so we decided to go on a fishing trip Memorial Day weekend to Devil's Lake, North Dakota.  It was a 4 hour drive from Madison, WI to St. Paul, MN to meet up with my parents and my cousin Yer Vang.  We left St. Paul at 11:30 pm Thursday night and got to Devil's Lake around 5 a.m. Friday morning.  My friend Valerie Her and her family also drove to ND for white bass fishing. 
The water was tranquil and calm at Tiger Bay.  We stayed here for a bit to test if the fish were biting.  My dad reserved a boat at Woodland Resort so we drove there next to get the boat.  My dad has a boat but decided not to haul it 6 hours to Devil's Lake so he opted to rent a boat to try out the lake.  He rented a 17 ft Alumacraft boat with a 4 stroke motor. It was $195 ($205 with tax) for a full day rental.  We own a Ranger Z520 bass boat but it was too far to haul it from Madison.  My husband, dad, brother Toby, and nephew Chanze fished on the rental boat. I drove my mom and I to meet up with my cousin Yer.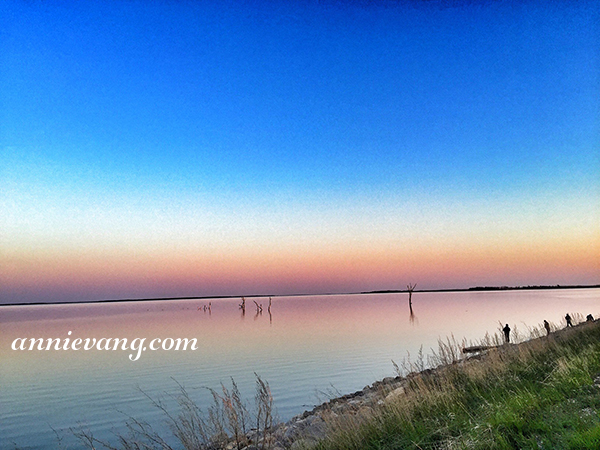 My mom and I drove around the lake. We drove by Graham Island State Park. It is a beautiful place with trees in the water and rocks surrounding the highway.  Since I was driving, I was not able to take some photos of the pristine scenery.
We then decided to drive over to Spirit Lake Casino to see the guys fish on the boat.  I parked outside the casino and my mom and I took a short 1 hour nap. Then my cousin Yer stopped by the casino to pick us up and we decided to hit up a fishing spot close to the first gas station we approached when we got to Devil's Lake.
We then drove all the way north west to Six Mile Bay on Highway 2. We saw a lot of parked cars and Hmong people fishing.  We fished along the shore.  Later I called my husband and sent a screenshot of my location for them to come to us because the fish were biting.  They came on the boat and fished for a while, then decided to return the boat and come fish on the shore with us.
Later when it got dark, we went back to the hotel and got some rest. My husband got up early at 3 am and headed back to Six Mile Bay to fish.  Fishing was successful and the journey was well .... pretty amazing and unbelievable to say the least.

What I liked about the trip:
Beautiful scenery
Best tasting white bass fish I've ever had. The fish in WI do not taste as good.
If you get a hot spot, the fish bite like no tomorrow! 
The white bass are HUGE! I think they are large at this time because they are spawning. The average fish we caught were 18-19 inches long and 3.5 pounds.
Spirit Lake Casino buffet is only $7. It's buffet food but it beats eating at McDonald's.
Competition is fierce. The adrenaline rush is a sure bet.
Lots of Hmong people (can be good or bad).
Huge social experience.
Family time
Being outside with nature
Being in the country, away from city life
The roads are pretty well kept. Some construction going on but not too bad.
Boosting the local economy. Our Hmong people vacationing in North Dakota brings income to the local businesses, hotels, casino, bait shops, boat rentals, restaurants, etc... 
To see my mom and dad's excitement!  The smiles on their faces when they caught a white bass was precious!  They loved the experience and want to plan another trip.
I had a personal tour guide, my cousin Yer and brother in law Seng! It helps if you go with someone who has fished there before.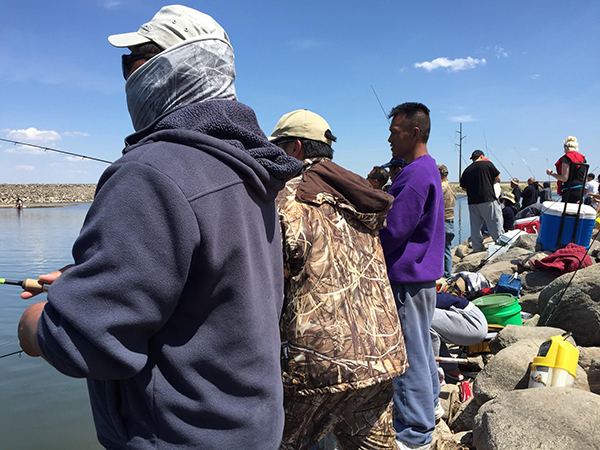 What I DID NOT LIKE about the trip:
Bugs. THEY ARE EVERYWHERE.  Some bugs look like mosquitoes but they are not. I was actually quite frightened initially but after learning they don't bite, I was able to tolerate them lingering around me. Using bug spray helped a little. They SWARM everywhere especially on the sides of car windows.  If there's a breeze, they aren't a big nuisance.
People WITH NO MANNERS or ETIQUETTE. Most of the people fishing around the area were Hmong. There were some caucasions and other asians but they didn't hover over your shoulder.  The caucasions fished where they had plenty of space and elbow room. Meanwhile our fellow hmong comrades were shoulder to shoulder.  I was told this is the social norm and the hmong who fish there have just come to accept this behavior.  NOT OK with ME!
People who are ready to pounce on your spot if you move an inch.  Whenever my husband bent over to get a minnow or whenever he turned around to place his white bass into our cooler, some dude would jump or nudge himself into my husband's spot.  I stood next to my husband and my dad. My mom was next to my dad.  
People who stand right behind you and cast their rods right over your head.  This is darn right ANNOYING.
People who smoke while fishing and throw their ashes right where you are standing. Maybe they are trying to get rid of you, I don't know. Sorry, not giving up my spot.
People (who you don't know) pretend to come over to talk to you and then start fishing right next to you. Next thing you know, two more of his friends are standing next to you squeezing you over.
People who cast their lines over yours and then they reel in their line and also get tangled up with your line so you lose your fish.
People who brought their infant babies and then don't calm their babies when the babies cry.  Go feed your baby, the fish can wait.
People who don't know how to park and block your exit.  Even when I asked this girl to move her car, she ignored me and walked down the hill to go fish.
People who don't pick up their trash.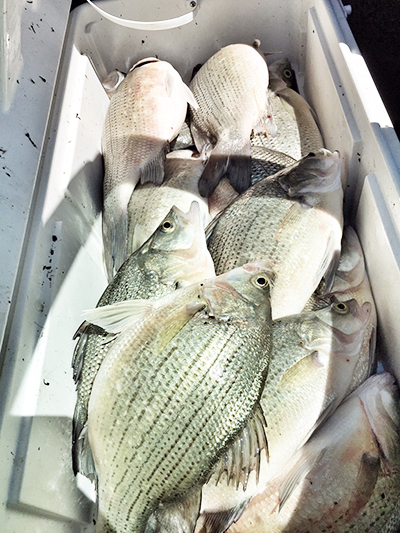 Lessons learned:
Know your daily limits for white bass.  In North Dakota the limit for white bass is 20 per day per person.  Please refer to the ND Fish and Game rules.
80 white bass maximum posession per person at any point in time.  So if you buy an annual license and you are there for 4 days and got your limit, you cannot catch any more fish on the 5th day because you'll go over the 80 max possession limit. If you buy a 3 day fishing license you can only get a max possession of 60 white bass per person (20 first day, 20 second day, 20 third day). Do not get this confused.
Separate your days catch.  If you are there for more than one day, keep your fish separate and know the count per days catch.
Always account for how many people are in the car and total fish count.  We Hmong people travel in large families so if you put all your fish into one car, make sure you never drive alone somewhere transporting all the fish with you. For example: going to the gas station to use the restroom or going into town to buy more bait.  If the DNR game warden pulls you over and you are transporting all the fish in your vehicle, you will be slammed with fines if you are transporting everyone's fish and you are the only person in the car. Remember, your daily limit for white bass is only 20.  Same concept can be applied for other fish and fish restrictions.  It doesn't matter how many people are traveling with you, if they aren't in the car when you get pulled over and the fish count is over your limit--- YOU WILL BE FINED! 
The bait shop inventory is limited so go there prepared. There's a Walmart in town but the selection for lures, hooks, and other fishing products is limited.
There's some spots you can't shore fish because the land belongs to the Native American Indian Reservation.  You have to buy a license separate from the Indian Reservation.
Game wardens are everywhere.  If you see a lot of hmong people fishing in one spot, chances are not too far down the road there's a DNR game warden waiting to inspect your fish count.
Wear sunblock and bug spray.  Don't wear flip flops, they are not safe to walk down on the large rocks.
Be careful where you step, some big rocks look sturdy but once you step on them they start to roll. I tripped a few times and my dad collapsed/fell.
There lots more people on the weekend than on a weekday.  Holidays also attract higher traffic.
Replenish your coolers with ice. We used dry ice (wrapped) in some coolers and it worked out great.
Where there are lots of hmong people, that's where the fish are biting.  I didn't believe it at first but after experiencing it first hand, I can say it's true.
Why do Hmong people want to get the daily limits?
Our people like to share our food.  We have big families and usually when we hunt or fish, we always invite our friends and family over to share the enjoyment with us.  
Some people believe we take too much white bass but I believe catching white bass is legal per each state's restrictions.
To feed our large families.
To give away to our relatives and friends.
We drive far to get there. If we lived close, we probably could get them fresh and not need to get so many for our effort.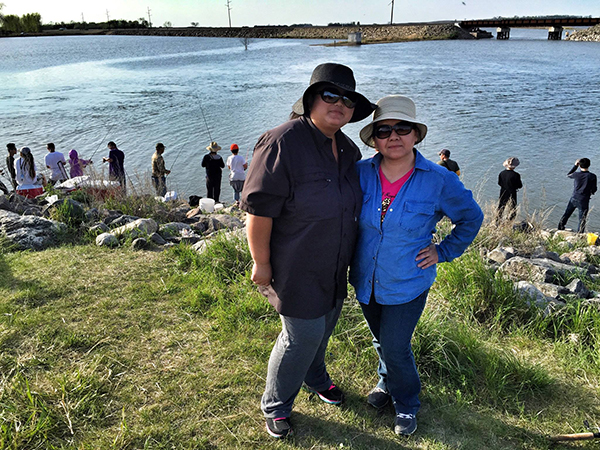 Me and Valerie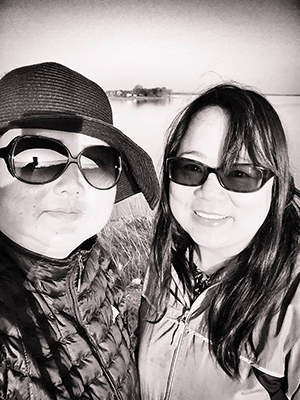 Me and Yer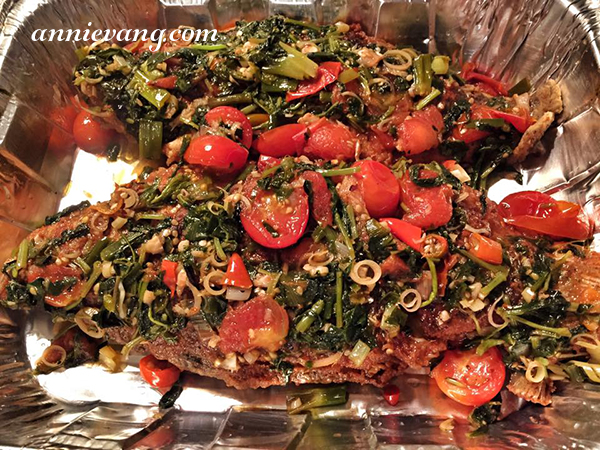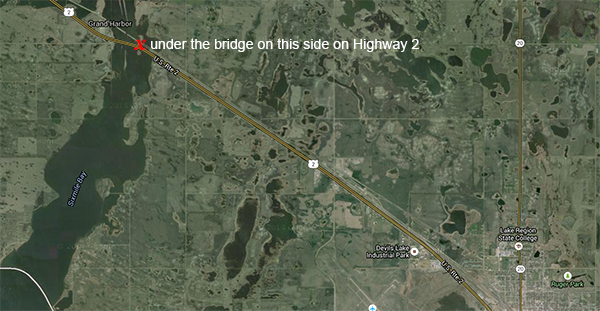 HOT SPOT as of May 25, 2015 - Sixmile Bay by the bridge on Highway 2
Hot spot this week but once spawning is over with, the fish will most likely move to another location. Sorry can't help you out there! Right now at the time we were there, we used live minnows with a small sinker.  The HOT corner spot is on FIRE! If you go too late, you won't get this spot because people fish all night and DON'T leave.