Posted by

Annie

on

Tuesday, 15 November 2011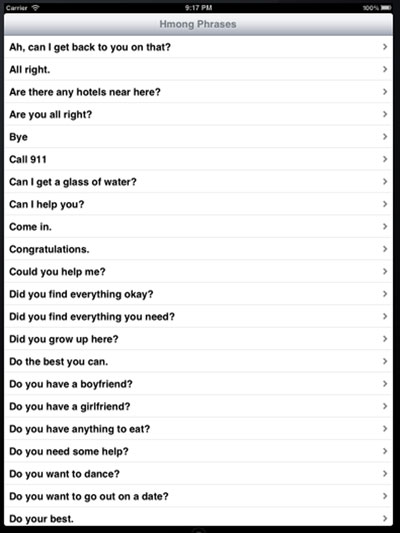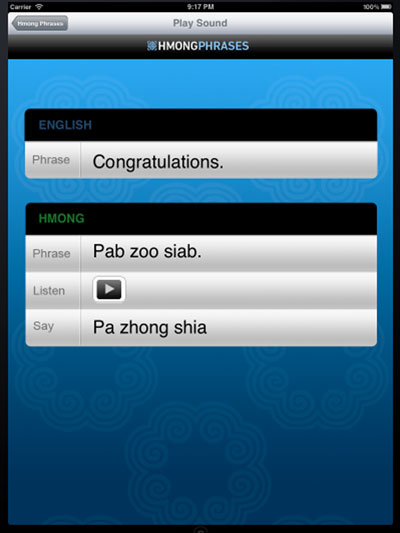 Hi everyone! I am extremely excited to announce my latest iOS application release called "Hmong Phrases."  This is a very simple application to teach non-Hmong speakers how to say simple conversational phrases in Hmong. You can click a button and play the sound.  Then you can practice how to say it.  The next time you meet a Hmong person, you can surprise and amaze them with the new language skills you just learned! 
http://itunes.apple.com/us/app/hmongphrases/id479437001?mt=8
History
I decided to make this application because I wanted to teach my Hmong language to other non-native Hmong speakers.  There's been many times I have had friends ask me, "How do you say that in Hmong?"  and I would translate.  So I got this idea to make a very basic and simple to use conversation starter.  I thought it would be helpful to those who want to learn Hmong but didn't know where to start.  Apple makes a very nice iOS platform for developers to get as creative as they want.  Being that there was no app like this in the App Store, I decided to develop and make my mark.  I wanted to connect people to people.  And this is what my app's purpose is.
The real passion behind his project is one that I made for my own personal goals.  I can proudly say that I have achieved something I believed in.  It may not be big, grand, or spectacular, but I made a mark. It doesn't matter if I am the first, the last, the best or the worst.  What matters is the love and passion that went into spending many hours of my evenings and weekends on a project that I believed in.  My sister, Song Vang, help me with the UI designs and my dad helped me translate the phrases.  I put the project and the Objective-C code together.  To me, this is a memorable project because I got to build it with my family.  Even thought they lived 400 miles away from me, I always felt they were close by because we got to collaborate and work together in spirit.  Without their help, I couldn't have done this alone.  Thank you sis, thank you dad!
My dad is the reason why I love technology so much.  Even when we were very young, my dad's love for electronics and computers influenced me as a young girl and even now as a grown woman. You would not think that a young Hmong man from Laos would come to the US, who not even knowing the english language, would fall in love with computers and technology. Well, that was my dad. Long before the internet ever existed, my dad was always a futuristic thinker. He knew something I didn't.  He knew that people needed each other and they will go to any lengths to find one another.  This is true.  No matter how you slice and dice it, we know this is truth.
Being Hmong, means being part of a family.  Our culture and traditions have always included the presence of others.  The way that we have evolved over the past few centuries is amazing and it is also such a very sad story that I will tell another day.  I just wanted to share who I am with you.
Who would have thought that a little hmong girl from Iowa would grow up and learn to love computers, programming, technology, mobile phones, and have so much fun making Hmong food tutorials on Youtube? Hahaha.... I am having a good time and will keep on rocking it!
Kind regards,
Annie